Why RBI Solar is the Best Choice for Utility Scale Racking Projects?
Company History:
RBI Solar is a subsidiary of Rough Brothers USA which has an 80 year history in greenhouse and commercial structure development throughout the United States. We have been fortunate enough to provide comprehensive structure and greenhouse solutions for the US government and numerous national chain stores such as Lowes and Home Depot. The complimentary business practices of purchasing bulk steel, manufacturing steel components and optimizing design based on engineering results, led Rough Bros to expand into the solar sector. Our business has been expanding exponentially ever since.
Meet RBI Solar Manufacturer at Solar Power International 2013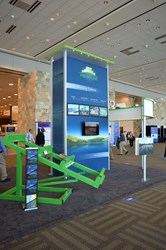 RBI Solar, Inc (Solar Manufacturer) is exhibiting at Solar Power International (SPI) 2013 October 21-24, 2013, at McCormick Place in Chicago, IL. Meet with the RBI Solar Team at Booth #202.
RBI Solar is a single source provider for solar mounting systems with turnkey solutions for design, engineering, fabrication and installation. RBI designs solar racking for site-specific conditions that result in optimally engineered products at very competitive costs.
RBI is displaying a sample of its ground mount solar systems, which have been used nation-wide in numerous commercial- and utility-scale solar racking projects. This ground mount solar system is considered the most robust system available in the solar market.