How to Find the Right Solar Partners
July 10th, 2016
Alicia Auhagen
As the solar industry continues to grow, so do the number of solar companies and installers. You might be looking at your options wondering "how do I choose the right partners?" The good news is you're asking the right question. Your solar team should be just that—a partnership. Going solar is a big decision, and like any major-league life change, you want the right team at your side. Here are a few tips for selecting the best players for your solar team. Read the rest of this entry »
Posted in Roof Mount Solar, Solar Installation, Solar Mounting, Solar Racking
Tags: residential solar, roof mount solar, solar companies, solar energy systems, Solar Installation, solar mounting, solar mounting systems, solar PV systems, solar quote, solar racking systems
Meet RBI Solar Manufacturer at Solar Power International 2013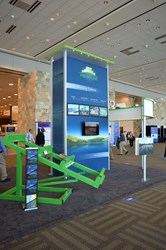 RBI Solar, Inc (Solar Manufacturer) is exhibiting at Solar Power International (SPI) 2013 October 21-24, 2013, at McCormick Place in Chicago, IL. Meet with the RBI Solar Team at Booth #202.
RBI Solar is a single source provider for solar mounting systems with turnkey solutions for design, engineering, fabrication and installation. RBI designs solar racking for site-specific conditions that result in optimally engineered products at very competitive costs.
RBI is displaying a sample of its ground mount solar systems, which have been used nation-wide in numerous commercial- and utility-scale solar racking projects. This ground mount solar system is considered the most robust system available in the solar market.
Soil Corrosivity and Solar Mounting Systems
September 17th, 2013
admin
When designing a PV racking structure, it is important to determine how much soil corrosivity needs to be accounted for in order to ensure the life expectancy of the mounting structure. Several factors need to be measured on a site by site basis. Soil pH, moisture content, chlorides, and resistivity all determine the service life of hot-dipped galvanized steel piles embedded in the ground. If every variable is not taken into consideration during the design of solar mounting systems, then failure before the target service length is reached is a very real possibility.