Congratulations, RBI Solar 5-Year Employees!
January 21st, 2016
Alicia Auhagen
Several members of the RBI Solar team recently celebrated their five-year work anniversaries with the company.
RBI Solar Supports the Ronald McDonald House
RBI Solar employees showed up for lunch extra hungry for the annual Coney Day, raising nearly $900 for the Greater Cincinnati Ronald McDonald House. Cincinnati staple Skyline Chili provided cheese coneys and RBI employees backed a variety of tasty treats in an effort to raise money for the company's main charity. All of the funds raised from the sales of coneys, baked goods and a company-wide raffle, went directly to the Greater Cincinnati Ronald McDonald House.
Rough Brothers, Inc. have been long time supports of the Ronald McDonald house. RBI annually serves as the presenting sponsor of the Ronald McDonald House Golf Classic and the company has contributed to the charity every year since Al Reilly served as president. RBI employees have continued  this tradition of charity through annual toy drives, raffles and organizing events like Coney Day. As the company continues to grow, so will our charitable efforts towards the Greater Cincinnati Ronald McDonald House.
Meet RBI Solar Manufacturer at Solar Power International 2013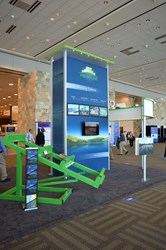 RBI Solar, Inc (Solar Manufacturer) is exhibiting at Solar Power International (SPI) 2013 October 21-24, 2013, at McCormick Place in Chicago, IL. Meet with the RBI Solar Team at Booth #202.
RBI Solar is a single source provider for solar mounting systems with turnkey solutions for design, engineering, fabrication and installation. RBI designs solar racking for site-specific conditions that result in optimally engineered products at very competitive costs.
RBI is displaying a sample of its ground mount solar systems, which have been used nation-wide in numerous commercial- and utility-scale solar racking projects. This ground mount solar system is considered the most robust system available in the solar market.
Explore RBI Solar Mounting Systems at Intersolar 2013
Ohio-based solar racking manufacturer, RBI Solar, Inc., is exhibiting at Intersolar 2013. Three days of innovation, education, networking and exhibits start July 9, and run through July 11, 2013, at the Moscone Center, San Francisco, CA. RBI's engineers, technical specialists, and executives will be on hand to answer your questions about solar mounting systems.
All the RBI Solar racking systems are designed by a team of qualified engineers and designers to real site conditions and fabricated in a state-of-the-art facility. Along with providing a perfect solar mounting system, RBI also offers installation of racking products at a very competitive cost. RBI's skilled crew is equipped with high-tech post driving machines and certified operators. Read the rest of this entry »
How Racking and Mounting Make Perfect Cents
March 28, 2013 | 2:00 pm ET / 11:00 am PT | Duration: 60 Minutes
How Racking and Mounting Make
Perfect Cents (And Dollars, Too)
In the intensely competitive world of solar installations, the size of your profit margin could depend on the speed, ease and durability of your racking-and-mounting system.Solar Power World has asked experts from around the industry to give us their insights into how racking-and-mounting systems can help you do your job more effectively and improve your profits.Attend this webinar to learn:
How racking-and-mounting systems are designed – with you in mind
How the ease of installation can affect labor costs
How the choice of a racking solution directly affects the profitability and reputation of an installer
All Registrants will Receive the Video & Slides
Register Soon!!! Only Few Seats Remaining for Webinars.
PRESENTERS
Brian Wildes
President, Founder
Ecolibrium Solar
Bill Vietas
General Manager
RBI Solar
Adam Brescia
Regional Sales Manager
HatiCon Solar
MODERATOR
Frank Andorka
Editorial Director
Solar Power World